How does a holiday company give someone a real sense of what it's like to visit an amazing destination or experience walking around a beautiful hotel without actually being there?
How can a small business showcase its new product or service, or demonstrate to someone what it feels like to be at an event?
How can a charity build empathy, make a point and interest new audiences?
The answer is virtual reality – a new and up-coming technology which is becoming more accessible to marketers.
Here at CJAM Group, we have worked with TyreSafe – the UK's leading tyre safety charity – to use virtual reality to raise awareness of the dangers of defective and illegal tyres.
VR has given the CJAM team an exciting, new and creative way to engage with its audience, creating a 360 video to show how safe and dangerous tyres can cause a car to react when involved in a road traffic accident.
The four minute clip recreates hazardous driving conditions featuring two cars; one with legal tread depth, the other with illegal tread.
360 cameras were attached to the seats to give the experience of driving in a car, before slamming on the breaks in an accident.  Using virtual reality, it's clear to see the difference in braking distance between the two cars.
Experience the TyreSafe 360 for yourself.  Download it now from the app store or Google Plus.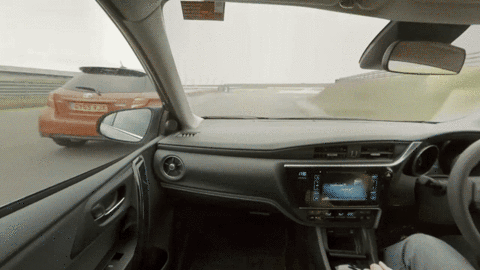 VR is getting less expensive. It gives businesses and charities and the opportunity to immerse their audiences in an interactive and first-hand experience without actually being there.
So what is VR?
VR replicates an environment – real or imaged, and simulates your physical presence in that environment.  It can recreate a sensory experience that can include sight, touch, hearing and even smell.
Most virtual reality experiences are created either on a computer screen or with a special virtual reality headset.  The immersive environment can be life-like and similar to the real world or can be used to create something which is out of this world.
Here are a few ways you could tap into virtual reality as part of your marketing strategy:
Education, training and recruitment
360 can take education and training to a new level.  Virtual reality can enable teachers, lecturers and organisations to deliver large amounts of information in a visually attractive and understandable way. Large numbers of people can be trained in a virtual setting. Whether its disaster management training or police forces recreating situations officers may find themselves in, VR can simulate dangerous situations in a controlled environment.
Recruitment is one other key area, with organisations giving potential candidates a sense of what it would be like to do the job.
A VR experience can show what it's like to have the best seats in the house.  Or it could replace the presence of a key note speaker, giving people all over the world a chance to go to an event without actually attending in person.  The potential uses of VR in events are limitless.
Create a tangible experience
Test drive a car, experience a product, navigate a hopsital or look round a new shopping centre – VR lets you take part in an immersive virtual experience.
Charities including the RNLI and Cancer Research UK are embracing VR technology to engage with their audiences.  Visitors to lifeboat stations can now take a virtual tour of a life boat.  Meanwhile, Cancer Research UK has designed the first virtual reality garden at RHS Hampton Court Palace Flower Show to pay tribute to those who have remembered the cancer charity in their will.
Interested in shooting a 360 video?  Find out more from the CJAM marketing team on 01787 226995.